Mike and Sandy have been busy raising a toddler (an adventure of an entirely different manner!)

Michael has been diving and surveying in
and
with
Curt Bowen's Advanced Diver Magazine.

Saturday April 6th 2013 Sandy was at the
Ocala Main Library's Book Feast
She will be happy to sell and sign books
and talk to readers and authors about their literary interests and pursuits!
Wednesday morning March 27th at 9AM, 2013
on WOCA 96.7FM / 1370AM (Ocala, FL)
Sandy's live on-air interview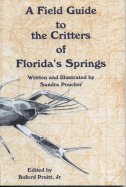 http://nssbookstore.org/index.php?mode=store&submode=showitem&itemnumber=07-1126-2631

August 2011
A Field Guide to the Critters of Florida's Springs
published by the
National Speleological Society
This comprehensive hand-illustrated guide describes the inhabitants of
Florida's spring runs, springs and caves.
A must-have for anyone who loves Florida
and desires to learn more about the critters
who share Florida's springs.

MudBug History
2007
Stirrups n' Strides
Program for fundraising and promotional purposes
of a remarkable therapeutic riding program in Citra, Florida.
2006
Marion Therapeutic Riding Association, Inc.
Editing of program for fundraising and promotional purposes.
2005
Tiger Aspect Productions, London, England
Talent for episodes of upcoming series tentatively titled Ultimate Blunders.
Shot on location in and around Ocala, Florida.
Tower's Productions, Chicago, Illinois
Associate field production on episode of OLN's Outdoors Investigations
shot in north central Florida cave country.
Pixnat, Quebec, Canada
Talent, safety diver and guide for UW videographer Nathalie Lasselin.
Facing Darkness
O'Leno State Park, High Springs, Florida
Mystery of River Rise underwater cave system documentary.
www.floridastateparks.org/oleno/
Ichetucknee Springs State Park, White Springs, Florida
Documentary programming for visitors to the Ichetucknee Springs Welcome Center.
www.floridastateparks.org/ichetuckneesprings
Private client, Georgia
Children's program for middle school geography lesson.
Showing cave divers in the Peacock Springs system, water sampling and basin fauna.
Peacock Springs State Park, Luraville, Florida
Underwater documentaries and media design services for park kiosk.
www.peacocksprings.com

Project History
2007
Crystal Beach revisited
cave diving video
Join us on a fascinating journey with the team of underwater cave explorers
as they describe their experiences exploring this unique Gulf coast cave system. From the no-mount restricted entrance, through gorgeous scooter-sized passages to the mysterious and living Dragon's Lair.
Starring Brett Hemphill, Michael Poucher and Rudy Sturm.
Underwater footage by Brett Hemphill, aerial footage by Rudy Sturm.
Funded in part by the Florida Wildlife Federation
Including:
Crystal Beach revisited, 30 minutes
Short program, 6 minutes
Crash, Croak, Clear, 2 min. 30 seconds
2006
Off the Beaten Path!
Underwater cave systems rarely seen! Four short programs to tantalize the explorer's heart:
Briland's Blue Hole, exploration diving in the Caribbean, 5 minute
Crystal Beach, the Florida Gulf coast's own blue hole, 6 minutes
Harvey's Cave, curious, a fascinating visual cave, 4 minutes
Suwannee Blue, short dive, short video, 3 minutes
Available by special request only.
2005
Springs of North Florida

a DVD featuring 3 mini-documentary programs:

Troy Spring and Peacock Springs

An introducing to Troy Spring and the world-famous Peacock Springs.

Rose Sink

Discover what residents and divers have long suspected

about this serene sinkhole pond.

The Mystery of River Rise

Where does the extra water come from?

Journey to an adventure of a lifetime. Featuring O'Leno State Park.
2004
Ichetucknee Springs State Park Welcome Center
MudBug Productions is proud to be a part of the Welcome Center with our programs, Mystery of River Rise, Rose Sink, and
Troy Spring and Peacock Spring, introducing visitors to the incredible underwater cave features of Florida .
Gorgeous footage of the large clear passages that make Peacock Springs the premiere world-class cave diving destination, and
Rose Sink, the story of a sinkhole connected via underground conduits to Ichetucknee Springs, more than five miles away!
Programs compiled into the Springs of North Florida DVD.
2002
Mystery of River Rise

This award-winning program takes a tour of North Florida's O'Leno State Park,

from the earliest human settlement to the present,

exposing the incredible, dangerous and extensive

underwater cave system beneath the land.

2000

White Ring Blue Hole

A 1999 Explorer's Club Caribbean expedition led by inventor and world-class

explorer Tom Turner, resulted in this program showing

the world of a Caribbean Blue Hole and the variety of life found

in the fascinating cave system.
MudBug Productions
Last Updated March 2014