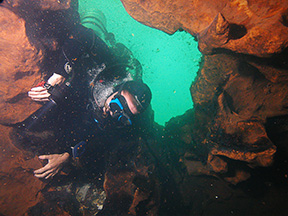 Sandy enters a central Florida spring.
Photo Courtesy of
the Cambrian Foundation/Karl Shreeves.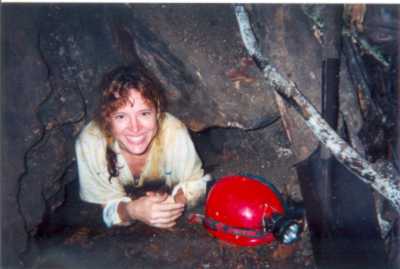 Sandy at Roosevelt Cave.
Photo by Michael Poucher.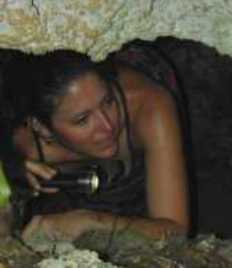 Sandy at Muyil, caving in a dress 2008. Photo by Michael Poucher.
Sandra Poucher:
Sandy has explored and collected survey data at Indian Spring, O'Leno State Park, Harvey's Cave, Manatee Springs State Park, and Sistema Camilo near Akumal. She was the first woman to enter and survey in Weeki Wachee. Her interests include underwater cave exploration, survey, scientific diving, videography, writing and photography . Her articles and photographs have been published in magazines such as Underwater Speleology, NSS News, and the NACD Journal. She is editor of Sheck Exley's The Taming of the Slough: a comprehensive history of Peacock Springs, co-compiler with Dr. Rick Copeland of the Florida Geological Survey on the Speleological and Karst Glossary of Florida and the Caribbean, the first glossary published by the University Press of Florida and most recently, A Field Guide to the Critters of Florida's Springs, a comprehensive illustrated guide to the fauna of Florida's springs and spring runs published by the National Speleological Society
(Visit the NSS online Bookstore for cool caving swag and books.).