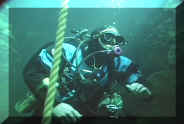 This site is dedicated to information on maps and surveying underwater caves. I have been surveying caves, mostly underwater, in Florida, Mexico and the Bahamas since 1989.
I got my start in the dry (not underwater) caves around Ocala, Florida with the Florida Speleological Society. My first introduction to surveying came on a trip with Bob Nabbel in Roosevelt Sink. We mapped several hundred feet in some of the muddiest cave I've ever been in. From that moment on, I was hooked on surveying and mapping caves. I then went on to my first cave map with Coon Cave and Gremlin Cave, both of which were discovered by FSS Cavers.
My interest turned towards surveying underwater caves when Steve Gerrard began a project to re-map Peacock Springs. Over the next five years Dennis Holden, Tony Pate, Bill Rennaker, myself, and many others re-mapped the cave originally surveyed by Sheck Exley and others. Our goal was to produce a map detailed enough that a diver could pick out landmarks from a dive.
Since then, I have participated in many surveys including Peacock III Siphon, Convict Spring, BathTub Spring, Suwannee Blue Spring, Old Bellamy Cave, Briland Blue Hole, Manatee, Indian Spring, Sistema Camilo, Weeki Wachee, and White Ring Blue Hole.
In addition to the mapping, my wife, Sandra, and I shoot underwater video and Sandra has produced several short programs, the most notable being "Mystery of River Rise" which is used by O'Leno State Park in their weekly camper programs, and "Crystal Beach Revisited" which documents the exploration of Crystal Beach Spring by Brett Hemphill and Rudy Sturm. Both won awards at the National Speleological Society video salons. In addition to those videos, Sandra also did a short video on Troy, Rose and Peacock Springs for the Ichetucknee Springs visitors center.
Michael Poucher

NSS 29018
Mike and Sandy Poucher

at Nohoch Mul, Coba, Mexico

during the Cambrian Foundation's

Akumal 2006 expedition.

The top of this Mayan pyramid is 136 feet

and the way down is very steep.

The expedition diving is easier

than the climbing!